The other day I ran across the website of
Israel Shamir
, an Israeli anti-semite and Palestinian shill whom I'd never heard of before, but whose type is familiar. Shamir is one of those plausible haters who maintains a thin veneer of reasonableness and even jocularity over his psychopathy, even when he's accusing Jews of (yawn)
drinking the blood of Christians and Muslims
.
The "
distinguished contributors
" to his site, while certainly in full agreement with Shamir on all things anti-semitic are not, alas, as
sophisticated
as he. There's the poet
Siam
, for example, who, in a poem dedicated to Edward Said,
sings of
CITIES AND AREAS WHERE CHEMICAL AND BIOLOGICAL WARFARE IS
IMPLIED,
SUPPLIED,
APPLIED,
AND CAN NOT BE DENIED - LIKE,
nerve gas used on demonstrators in Gaza,
and water poisoning of those at the siege of Acre
That's what he wrote, yup, that's what he wrote. And then there's Lasse Wilhelmson, who writes (in "
Zionism as Jewish National Socialism
") that Israel "lacks a constitution and fixed boarders [
sic
]," and that it has "conducted genocide against the Palestinians for a hundred years." Lasse, be a good running dog of dumb-assery and go home. There's even a contributor named
Cletus
. It was difficult to find a picture of Cletus, but
I did
. (Didn't see that one coming, huh?)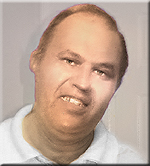 Finally there's this man, Joh Domingo, the dentally challenged "idea-guy" of Shamir's neo-Nazi Gang That Can't Shoot Straight But It Doesn't Matter 'Cause They'll Use Gas.
Domingo: Lombroso was right
.
In one article that lays some love on white supremacists,
Joh points out
that when "David Duke was the grand Wizard of the Ku Klux Klan . . .
[t]hey hanged black people from tree trunks. What they did was however small change compared to what the Ku Klux Knesset does on a daily basis."
Ku Klux Knesset. Good one, Joh. Joh, by the way, says he is black. And South African. And a long-time "activist" against Apartheid. Well, every fighter against Apartheid is a hero, right? Joh kind of libels poor David Duke, though, doesn't he? After all, Davy talked a good lynching, but I don't think he ever risked his
70s-Bowie
look by actually participating in one.
(via
Stephen Pollard
)